Drupal 9, it's here!
Upgrading to Drupal 9
An article from ComputerMinds - Building with Drupal in the UK since 2005.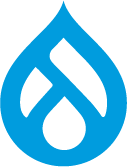 Update: Since writing this article the EOL of Drupal 7 has been extended from November 2021 until November 2022.
It's here! June 3rd 2020 marks the official release date of the first production ready version of Drupal 9. It feels like Drupal 8 was only released a short while ago but it turns out it's been 4.5 years already! The release of any new major version of Drupal is an exciting milestone in the project's history and with a shiny new brand logo in place, Drupal 9 is ready to hit the ground running.
We are already well underway doing upgrade builds for our clients that are still on Drupal 7, and for those that are on Drupal 8 already, we will be shortly getting those running on Drupal 9 too.
With the release of Drupal 9 now out in the wild, you only have until November 2021 November 2022 until Drupal 7 reaches end of life (EOL) with Drupal 8 still reaching EOL November 2021. By that time those versions will no longer receive any further security updates. So it's imperative that any Drupal 7 or 8 sites out there have plans to complete the upgrade to Drupal 9 in time before then because the work required for Drupal 7 sites to upgrade may be pretty significant. One of our developers Christian wrote an excellent article on upgrading your existing Drupal 7 site in May last year, so be sure to check that out if you haven't already.
So what new features can you expect when upgrading a Drupal 8 site to Drupal 9? Well, nothing immediately obvious. The first release of Drupal 9 (9.0.0) contains the exact same features as the final minor release of Drupal (8.9.0), just with updated dependencies that Drupal 9 relies upon and there's been a clear out of deprecated code from the 8.x codebase. This means Drupal can continue to improve in future with less baggage holding it back.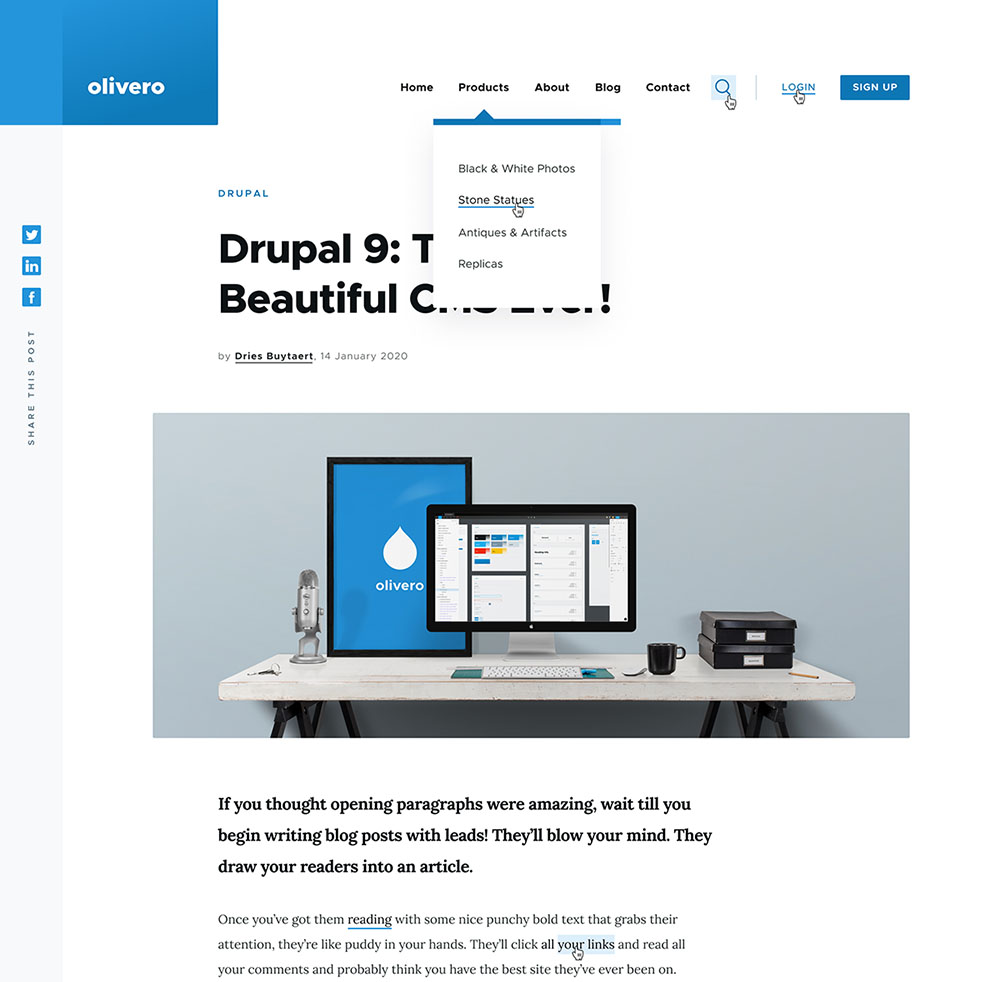 This is an exciting new front end theme currently in the works called 'Olivero' - which aims to give Drupal 9 a fresh modern default theme - and a new default admin theme called 'Claro'. New and exciting features of Drupal 9 will start arriving with the release of Drupal 9.1 onwards...
At ComputerMinds we still believe strongly in Drupal as the number one platform of choice to build our sites upon and it's evident that others share that view as there are now over 1 million websites powered by Drupal. It remains a very powerful platform which allows us to build exactly the kind of experience that a client wants, tailored to their specific needs, whilst being able to scale up to potentially handle millions of users and pieces of content. (If your site gets that big!)
Being open source itself and using other open source technologies like Symfony, Composer, Twig and PHPUnit to power it means it's now more widely accessible than ever to other PHP developers that may have experience with other frameworks using some of the same underlying technology.
Whether it's powering nonprofit websites such as the Rainforest Alliance, Government websites such as the Colorado General Assembly, providing a superior CMS editing experience for a global magazine like The Economist, helping boost Tourism numbers to Fiji, promoting your favourite music artist like Bruno Mars or helping you to find your favourite recipe on BBC Good Food, Drupal really can do it all.
Drupal 9 is available to download right now from drupal.org so what are you waiting for? Go check it out! (Of course those of you with a properly managed workflow will be upgrading from 8 to 9 using composer, so get that composer file updated!)
If you've liked what you've read and feel like you're ready - or in a position - to start thinking about a site upgrade, why not start a conversation with us today by using our contact form. We'd love to hear from you and look forward to seeing what benefits we can bring to your site.
Hi, thanks for reading
ComputerMinds are the UK's Drupal specialists with offices in Bristol and Coventry. We offer a range of Drupal services including Consultancy, Development, Training and Support. Whatever your Drupal problem, we can help.