Niquesa Travel
Delivering a luxurious experience.
The Challenge
Niquesa Travel wanted to build their luxury travel brand around experiences, like 'Love', 'Connect' and 'Share'. Their website had to communicate these feelings whilst showcasing what they had to offer - itineraries carefully tailored by personal assistants for their clients. There was no existing website to replace, so there was flexibility for us to provide input to help build the brand with modern responsive web design ideas. As a lean startup, Niquesa Travel evolved significantly throughout the project's initial build, so did their requirements and hopes too. Continuous deployment and optimistic change management were essential. The project continues to incorporate improvements and is delivering success for Niquesa.
Our Solution
Presenting beautiful imagery with flexible content around it, the website demonstrates the luxury and personal touch that Niquesa Travel have to offer. As ComputerMinds reacted to the client's needs, we ensured they could focus on their business goals.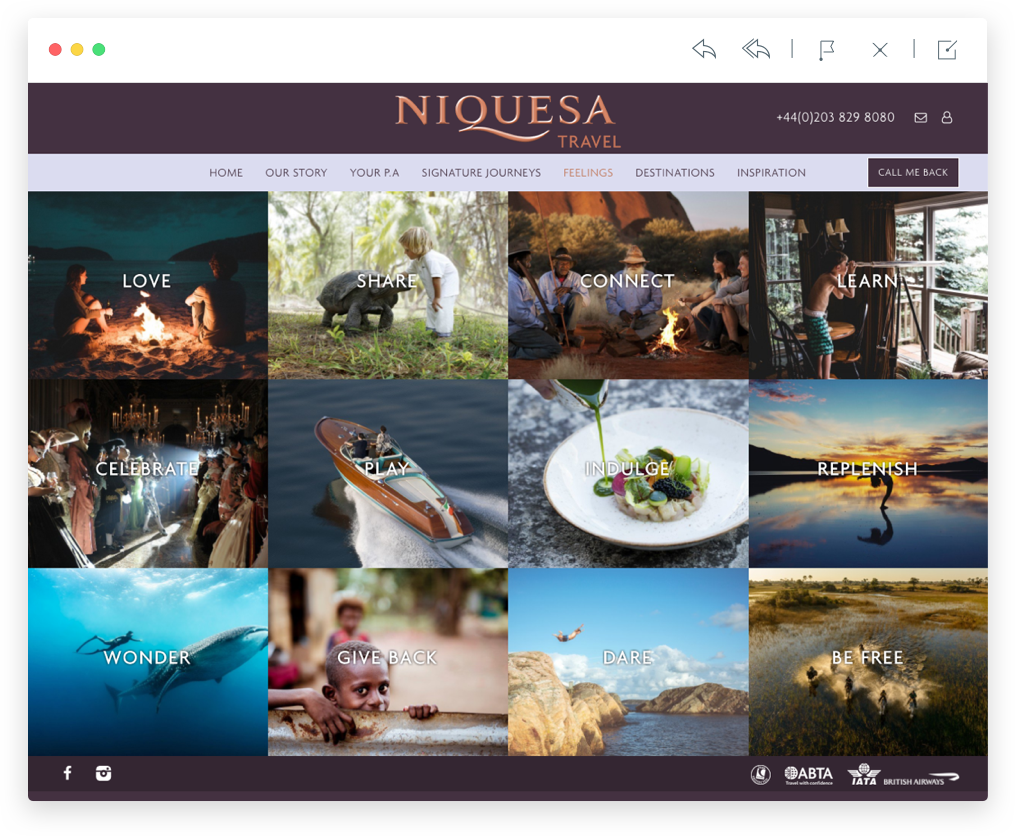 Managing Constant Change and Extending Drupal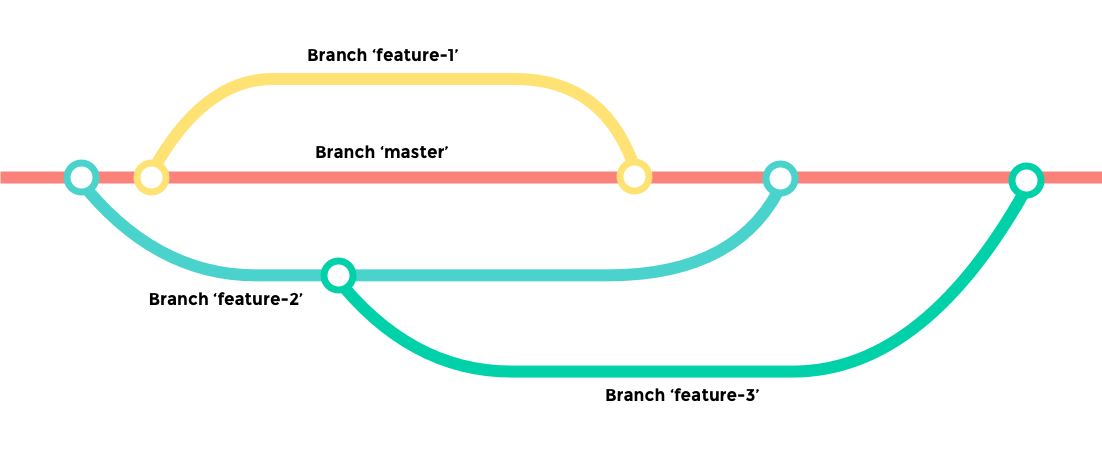 The intended look and feel of the website was completely overhauled a few times before the website became public. To manage change, we isolated every set of changes, balancing parallel work streams and multiple staging environments. Our build processes allowed Continuous Deployment, so that releasing changes was the easiest part, even when the site completely moved to a new server provider. This meant that redesigns could be built, tried out by the client, and changed quickly, whilst editors could continue their work unimpeded by significant technical change.

Alongside design changes, we built a full solution to manage constant changes to site configuration too. This allows both Niquesa's editors and ComputerMinds' developers to each control whatever was needed for the requirements at any given time, without conflict.

Just as Niquesa would with their holidays, we took the opportunity to specifically tailor the Drupal 8 platform, customising the user journey for customers and editors. We contributed a number of these fixes and improvements back to the core of Drupal itself, and to a number of its community-provided projects.
High Quality Media
Editors upload beautiful images via our carefully configured media solution for Drupal. Integration with the Kraken image optimisation service, alongside our responsive design techniques, ensures users get appropriately sized media, blazingly fast.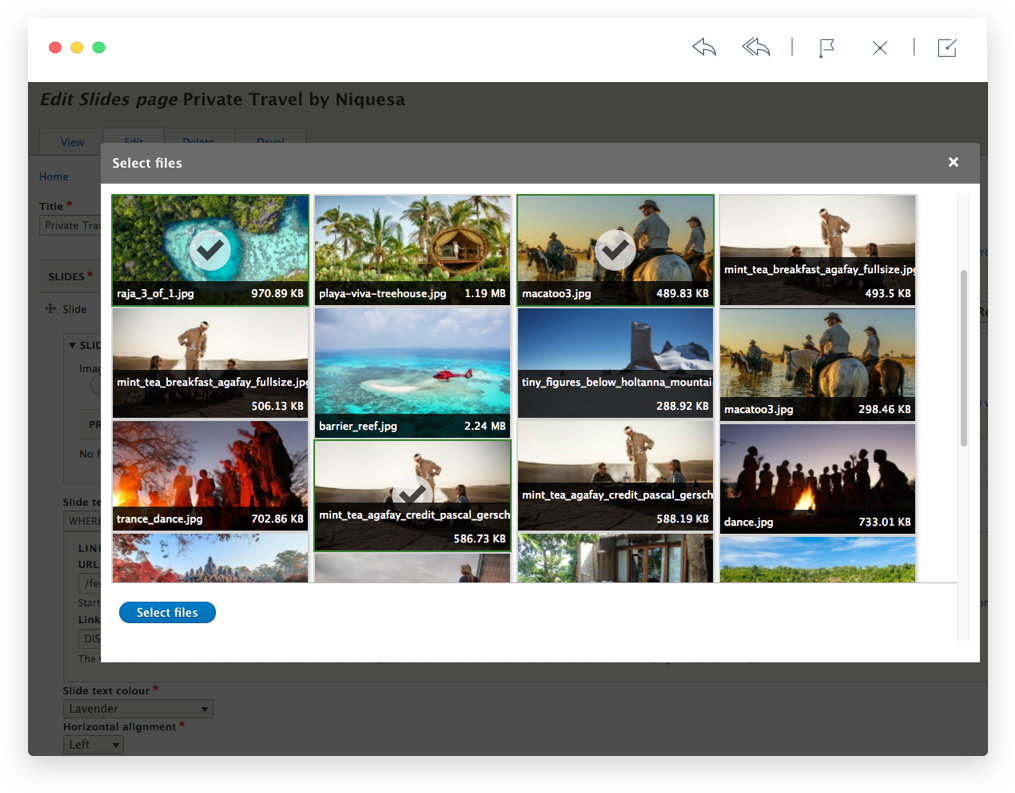 Experience Paired with the Best Tools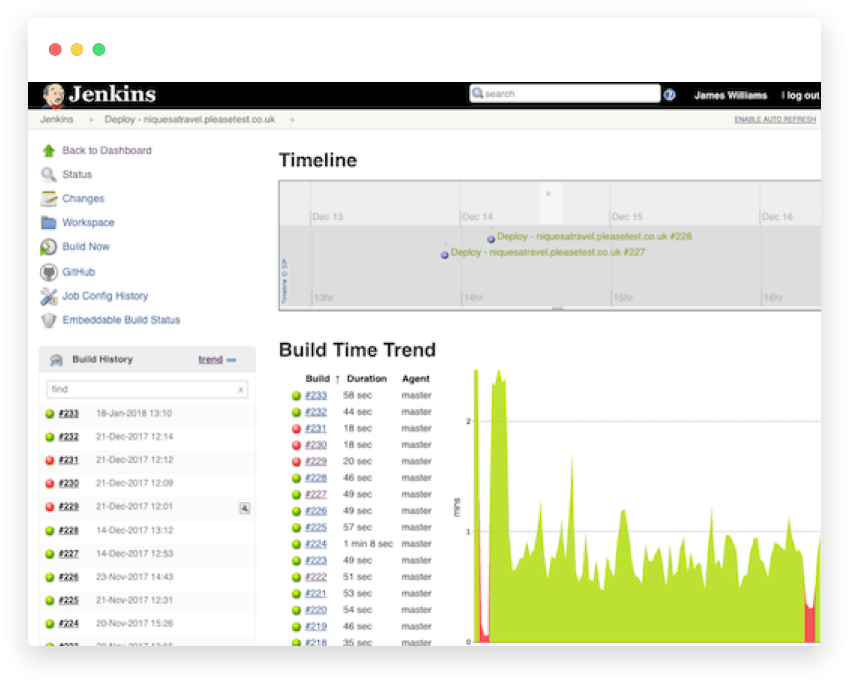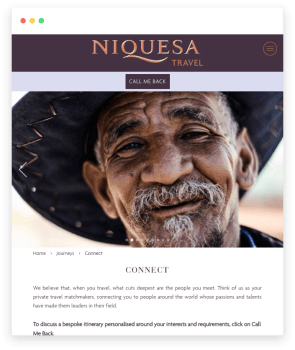 Automated deployments, performance insight, responsive imagery, page analytics, agile development...they all mean nothing without the right team. ComputerMinds' experience and delivery gave Niquesa Travel the space and confidence to build their brand.

Our developers deal directly with the appropriate stakeholders, reducing communication barriers wherever possible. Regular in-person meetings ensured everyone understood each other's intentions, and created a team atmosphere between developers and the client's key stakeholders for the project. That way, our developers could serve the actual site editors, with a real understanding of how they saw the project.